Relatable Scenes from iWant's 'Past, Present, Perfect?'
People on the internet fight about a lot of things. But fans who have seen "Past, Present, Perfect?," an iWant original series, seem to agree on one thing: It's not only brilliantly done; it's as relatable as one's first heartbreak. One episode into it, we already knew it was going to be special (Who knew Vin Abrenica would reach the peak of charming while portraying an all-Filipino-speaking teacher?) because it portrays the pains of puppy love, the ups and downs of having ambitions, and the letdowns of adulting.
Young Shantal (Loisa Andalio) is a dreamer, but the old Shantal (Shaina Magdayao) is not living her best life. She is suffering from a creative block, has difficulty writing the follow-up to her first published pocket book, and has resorted to subtitling porn to pay her bills. But it's not really what she wants to do – she majored in Malikhaing Pagsulat, after all. Now, she has to look to her past to see if it will ignite something in her.
"Past, Present, Perfect?" has obviously struck a chord among iWant users as it is currently the most watched original series on the streaming service. Here, we've listed down some of the nostalgia-inducing and important scenes that resonated with us. (Obviously, spoilers ahead!)
1)       When the series showed us little things that made up our entire childhood and teenage life, including:
Spring notebooks…
This paper game…
F4…
Jejemon texts…
Your barkada's own language…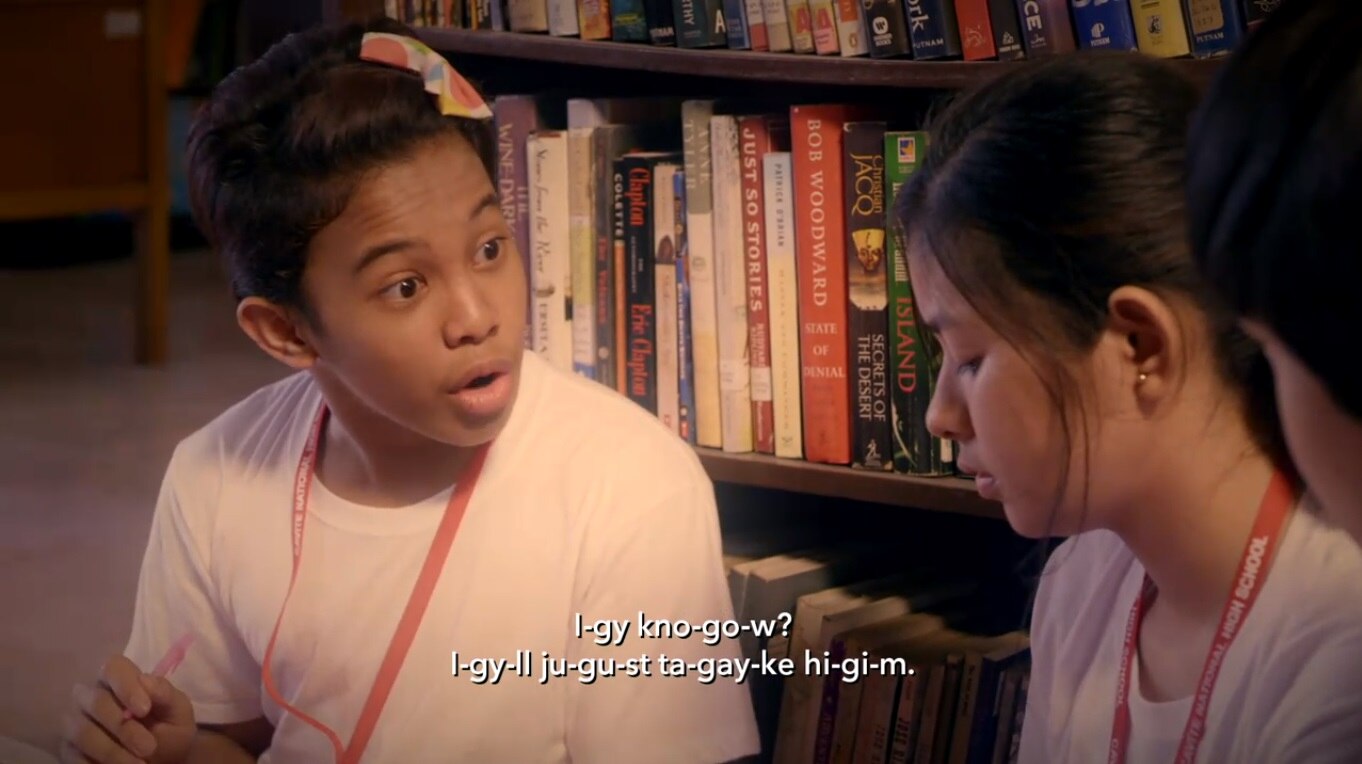 "Ice water" and softdrinks in cellophane wraps…
Class recess…
And, of course, the iconic Nokia 3310 cell phone!
2)       When Shantal wrote letters to her teacher, and even wrote one for her friend…
Today's secret declarations of love may come in the form of liking a post or posting a cryptic Instagram story, but young Shantal kept it poetic!
3)       When Shantal and her classmates practiced for and joined a 'sabayang pagbigkas' contest in their school. Extracurricular activities, anyone?
4)       When Shantal couldn't give a clear answer as to what she wanted to do in life…
5)       When Sir Daniel made Shantal believe in herself. We all have teachers like that, right?
6)       When Shantal and her friends sought to find the perfect prom dress
She ended up wearing her deceased mom's wedding dress.
7)       When Shantal was too busy writing letters to Sir Daniel and kept brushing off Marius, who did everything to get her attention
8)       When Shantal confessed her feelings for Sir Daniel but ultimately ended up getting rejected
9)       When Shantal suffered through her first night of seemingly unbearable heartbreak, and probably thought she wasn't going to survive it
10)     When old Shantal had a hard time managing her finances and couldn't pay her rent
11)     When Shantal's quarter-life crisis became too real for her, but found out she wasn't alone
12)     When Shantal was contacted by Sir Daniel more than 15 years later. Girl, we've all been there.
13)     When Shantal's father offered her words of advice that made her cry (us, too!). That's real talk!
14)     When Shantal had a moment with Marius after reuniting with Sir Daniel, and acknowledged she had romanticized her former teacher for so long
15)     And finally, the "wind on my face" scene – when Shantal, at 32, realized that the root of her writer's block was the pain caused by Sir Daniel. She finally learned to let it go.
All seven episodes of "Past, Present, Perfect?," directed by Dwein Baltazar, are already streaming for free on iWant. Download the iWant app on iOS or Android or register via iwant.ph.